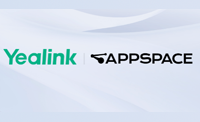 Yealink announced its partnership with Appspace, the first unified workplace experience platform. The partnership will help organizations facilitate the return to the office, and enhance workplace communication and collaboration.
The combination of Yealink and Appspace technologies allow Yealink RoomPanel room scheduling devices to run Appspace scheduling software natively, showing the availability of a meeting room and allowing for reservation of rooms. Additionally, digital signage through Appspace will be available to customers using Yealink RoomCast Wireless Presentation System, enabling employees to share the latest announcements or news in lobbies, team areas and meeting spaces.
"We are excited to partner with Appspace as workplace communications are critical now more than ever," said Alvin Liao, Vice President of Product at Yealink. "With the joint solution of Yealink and Appspace, our customers can better manage their workspace and extend communication to every collaboration space."
"Modernizing the workplace to support an increasingly hybrid workforce has become a top priority for organizations worldwide", said Paul Alley, Director, Technology Partnerships & Alliances, Appspace. "We're pleased to partner with Yealink to help make this a reality and improve the workplace experience for employees wherever they chose to work."