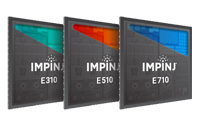 Impinj announced the next generation of Impinj RAIN RFID reader chips. The Impinj E710, E510, and E310 reader chips are high-performance, low-power, highly-integrated systems-on-chips (SoCs) that extend the item connectivity opportunity to hundreds of billions of things worldwide—including apparel, parcels, pharmaceuticals, automotive parts, and more.
These three new RAIN RFID reader chips enable IoT device makers to meet the increasing demand for item connectivity in retail, supply chain and logistics, consumer electronics, and many other markets.
Delivering performance, integration, and ease of use
Building on the heritage of the Impinj Indy reader chips, which have been used by millions of devices worldwide, the new Impinj E710, E510, and E310 reader chips deliver industry-leading performance, integration, and ease of use with:
- Up to 2x better receive sensitivity for reliable performance in new and existing solutions.
- Up to 80% smaller RAIN RFID system designs ideal for small, next-generation IoT devices.
- 50% lower chip power consumption, supporting battery-powered, energy-efficient devices.
- Software- and pin-compatible designs for easy performance upgrades and design reuse.
Available now, Impinj E710 offers the highest performance, Impinj E510 is the mid-range option in price and performance, and Impinj E310 is the lowest cost while still delivering 1.5x the read range of the Indy R500 reader chip. With industry-leading system integration and easy-to-use development tools, they enable the development of quick-to-market IoT devices that reliably identify, locate, and authenticate connected things.
Advancing IoT innovation opportunities
The Impinj E710, E510, and E310 reader chips also open up opportunities for new IoT innovation. They enable IoT devices to identify up to hundreds of items per second quickly and reliably, at distances of a few millimeters to many meters, without line-of-sight. They can be embedded into a wide variety of IoT devices, delivering RAIN functionality that enables new solutions including:
- Point of sale devices, smart shelves and cabinets for frictionless retail: Monitor goods and deliver fast, touch-free, and intuitive automated checkout experiences.
- Smart appliances, gaming devices, and security systems for enhanced consumer electronics: Connect to everyday items and deliver ultimate service and convenience.
- Tablets, smartphone accessories, and other mobile computing devices for employees: Identify, locate, and authenticate items in proximity, improving experiences with item intelligence.