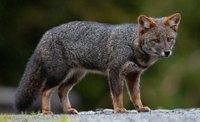 The "Guardians of the Forest" conservation project was launched online on Tuesday, August 17 to help save the Darwin's fox from extinction.
Powered by network and cloud technologies, the project seeks to protect the Darwin's fox in the Nahuelbuta mountain range and later in Chiloe Island. Fewer than 1,000 Darwin's foxes, which are native to Chile, are thought to remain.
The Guardian platform is an acoustics monitoring system that can monitor and identify different animals by their calls and detect threats such as gunshots and the chainsaws used for illegal logging. Under Huawei's TECH4ALL initiative, five solar-powered Guardians covering 30 km2 were installed in December 2020 in trees at a height of 10 to 40 meters, where they run 24/7. Each Guardian sends audio data across a wireless network to Huawei Cloud where it is analyzed by AI. Specific animals and threats can be identified to enable research or a near real-time response if a threat is detected, thus allowing adaptive management of the ecosystem.
As the Darwin's fox is mid food chain, it has high conservation value and impacts many other species. "The population status of the Darwin's Fox is an indicator of the health of the entire Nahuelbuta ecosystem," said Ética de Los Bosques Director Bernardo Reyes. "It is an 'umbrella species' from the status of the entire network of associated mammals that live in that space such as the pudu, wink, puma, and skunk."
The project brings together Chile's Ministry of the Environment and Superintendency of the Environment,Ética de los Bosques ,NGOs Rainforest Connection and Huawei.
"Chile is now one of nine countries in the world to have a bioacoustics monitoring system under the TECH4ALL initiative to protect native fauna and ecosystems, thus allowing the effective protection of our enormous natural resources" said Carolina Schmidt, the Minister of the Environment for Chile.
Rainforest Connection, Ethics of Forests, and other partners in Chile analyze the recorded data, which is then made available to organizations, such as the Ministry of the Environment and Superintendency of the Environment, and a network of authorized scientists and academics.
"Huawei's long-term digital inclusion initiative, TECH4ALL, is committed to using technology to conserve natural resources and mitigate the effects of climate change," said Kevin Zhang, CMO of ICT Infrastructure for Huawei. "The Nature Guardian project, one of Huawei's TECH4ALL flagship projects, has landed in Chile to protect the Darwin's fox, an iconic but endangered species."