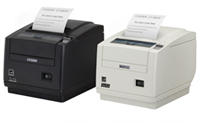 Introducing the latest innovation from global specialist printer manufacturer, Citizen Systems; the CT-S601IIR thermal POS printer. A new and special version of the popular CT-S601II printer, the new CT-S601IIR arrives as a Re-Stick Liner-Free Model that prints top exit, selfadhesive labels and has been designed to serve across multiple applications.
Boasting Citizen's enviable print and build quality and with an integrated power supply and low space requirement, the CT-S601IIR is ideally suited for catering and retail businesses. These, along with logistics and numerous professional applications that benefit from producing reusable labels of any length that can be applied quickly and directly. Whether producing labels for sandwich packaging, pizza delivery boxes, hot beverages from coffee shops, kitchens with customised orders, or indeed any business that demands quick labels that will Re-Stick time and again, the CT-S601IIR has you covered.
Producing cost-effective, continuous roll label output, the CT-S601IIR also highlights markleading eco-friendly capabilities. Offering users significant waste reduction, the new printer produces entirely Liner-Free labels and is compatible with MAXStick® media. Also, due to its ability to adjust the print length to suit the required content, CT-S601IIR reduces waste further still.
Available in either sleek black or classic ivory, the CT-S601IIR will seamlessly blend into any commercial environment. Producing super-fast, Liner-Free labels up to 83 mm wide, at a speed of 175 mm per second and at 203 dpi, the new printer is the perfect partner for anyone in need of reliable temporary labelling.
Citizen's newest thermal POS printer comes complete with full hardware and software connectivity, supported by an adaptable range of optional interfaces including USB, LAN, WiFi, Bluetooth and others. This makes the new CT-S601IIR simple to integrate into existing POS networks. Comprehensive software compatibility includes Windows drivers, Mac OS X, Linux CUPS and SDKs for iOS, Android and Windows Mobile as well as industry-standard ESC/POS™® emulation.